العودة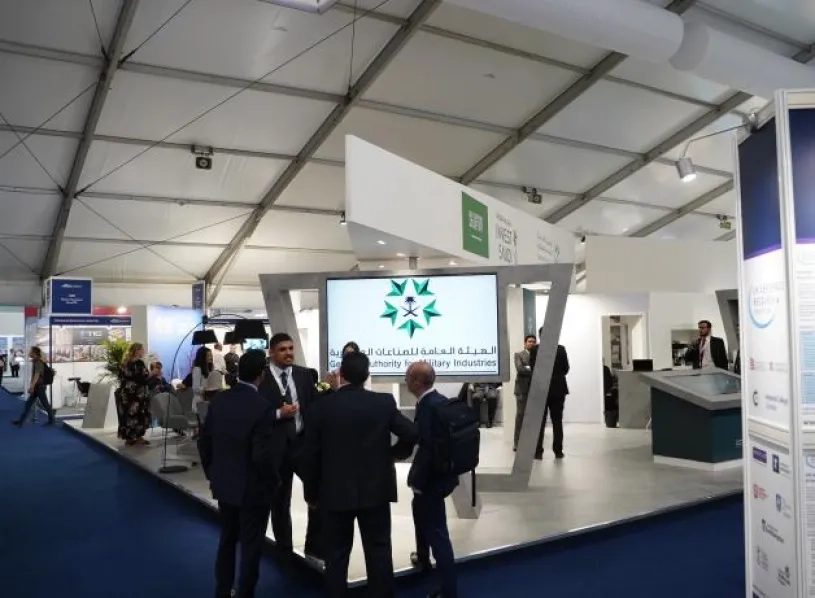 Saudi Arabia Concludes its Participation at FIA 2022 Farnborough – 22 Jul 2022
The Kingdom of Saudi Arabia has concluded its participation at Farnborough International Airshow (FIA 2022). The 5-day show was held in the United Kingdom, and witnessed wide-scale participation from across the globe.
Under the national "Invest Saudi", the KSA Pavilion was organized and led by the General Authority for Military Industries (GAMI). It comprised GAMI, the Saudi Ministry of Investment, the World Defense Show (WDS), and the Saudi Arabian Military Industries (SAMI). The Pavilion garnered impressive interest from a wide array of air domain and defense industrialists, specialists & subject matter experts, high-level governmental representatives, global and institutional investors, and visitors. Saudi Arabia capitalized on this unique opportunity to present the latest developments in the Kingdom's defense sector, and the wealth of sizeable defense opportunities and incentives available to global investors.
Inaugurating the KSA Pavilion was H.E. Ahmad Al-Ohali, GAMI Governor, with notable high-level representation in attendance amongst defense leaders. In his address, Al-Ohali affirmed that the KSA Pavilion at FIA 2022 serves as a continuation of GAMI's commitment to enabling the defense sector, and its realization of the overarching targets set forth by Vision 2030. Particularly, GAMI aspires, via clear and concise measures, to foster meaningful partnerships, actively engage with international investors keen on the Kingdom's defense sector, and expound on the sector's many lucrative investment opportunities. Moreover, it is vital to the Kingdom's defense sector regulator to elaborate on the various initiatives, reforms, and programs championed by GAMI and explicitly custom-tailored to incentive potential investors. As for the core message delivered to global stakeholders: It has truly never been easier to join a journey of localization empowered by digital transformation, and fastened with a sincere and strategic focus on ease of doing business via streamlined agile processes, as well as always maintaining thoughtful thorough consideration of the "win-win."
Complimenting this KSA Pavilion participation, were several key strategic announcements made by Saudi Arabia, chief of which was the announcement on the defense sector localization rate, which soared from 2% in 2018 to 11.7% in 2021. A multitude of defense platforms and capabilities were localized over this period, all contributing to enhancing operational readiness and strategic autonomy, via strategic and sustainable partnership building. The overarching goal: localizing more than 50% of expenditure on defense equipment and services, by the year 2030.
Yet another announcement made by Saudi Arabia at its KSA Pavilion was that of Establishment Permits (EPs) & Industrial Licenses. As of end of June 2022, GAMI had issued 291 Establishment Permits to 174 establishments. Of these, 41% were defense establishments (i.e. those solely offering defense products and/or services). As for supporting & adjacent industries (i.e. those offering products and/or services with both defense and civil applications), they accounted for 42%, while 17% corresponded to trade establishments. GAMI has indeed been working diligently and attentively to attract local, regional, and global investors, leveraging a bouquet of incentives strategically structured to maximize investor ROIs. Amongst these, are financing Non-Recurring Expenses (NREs) associated with strategic military projects and technologies, via cash grants and low-interest loans. Other incentives include VAT exemption for locally manufactured products, provision of industrial lands at discounted rates, generous advanced payments on defense contracts to incentivize investment in the sector, and a slew of regulatory and policy reforms specifically enforced to streamline and facilitate the investor journey.
On the agreements and international partnerships front, the KSA Pavilion also had much to share with the global defense community. SAMI for example, the national champion and wholly owned PIF subsidiary, announced that SAMI Aerospace has signed an agreement with Airbus Helicopter Arabia, the MENA arm of Airbus Global, for providing rotorcraft technical support to the Royal Saudi Armed forces, and building indigenous capabilities. SAMI also announced that SAMI Composites, a wholly owned subsidiary of the company, has signed an agreement with leading aerospace company Lockheed Martin to develop a composites manufacturing center of excellence in Riyadh with the support of GAMI, to boost Saudi Arabia's indigenous aerospace manufacturing capabilities. Lastly, SAMI announced that it has signed a number of major agreements with the leading Singaporean defense technology group ST Engineering, supporting SAMI in producing cutting-edge defense systems pursuant to executing its development and growth strategies, whilst also providing technical support and training.
The participation of the Kingdom of Saudi Arabia, in global defense and security shows like FIA 2022, falls within GAMI's official mandate, wherein GAMI is tasked with leading and organizing international participations, in close collaboration and coordination with its valued public and private sector partners, with the categorical intention of underpinning the investment opportunities born by the sector. In realization of its overarching goal of localizing more than 50% of expenditure on defense equipment and services by the year 2030, GAMI fosters, nurtures, and cultivates strategic partnerships with its various stakeholder groups within the global defense ecosystem. These key global partners include governmental and defense entities, global industry OEMs, and even Research Institutes & Universities. The intention of GAMI is regulate, localize, and enable defense industries in the Kingdom of Saudi Arabia, whilst attracting investors from across the globe to the Kingdom, for a sustainably safer and brighter future for generations to come.