Back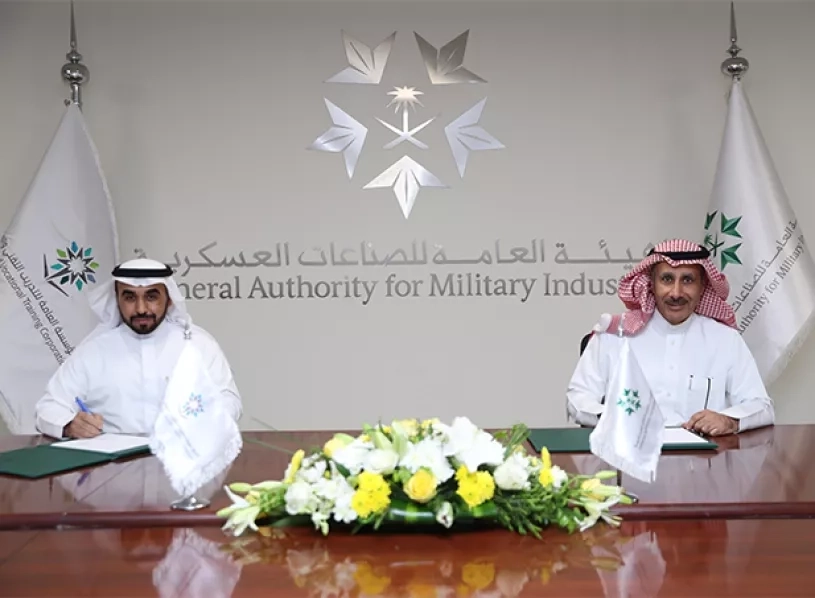 General Authority for Military Industries Signs MoU with The Technical and Vocational Training Corporation [24 August 2020]
"The General Authority for Military Industries" (GAMI) has signed a memorandum of understanding with The Technical and Vocational Training Corporation (TVTC) to support human capabilities in the Defense Industries Sector and to contribute to advancing the development of the Sector. Through joint cooperation in line with TVTC's outputs and programs, this is an effort to enhance the Sector's capabilities to contribute to achieving the goals of localizing more than 50% of the Kingdom's expenditure on Defense by 2030.
The MoU was signed by H.E. GAMI Governor Ahmad Al Ohali and H.E. TVTC Governor Dr. Ahmed Al-Fahaid in the presence of several officials from the two sides at GAMI's Headquarters in Riyadh.
The MoU aims to support the development of human capital in the Kingdom's Defense Industries Sector on several levels, including aligning the outputs and programs of TVTC with the strategic needs of the Sector, allocating training programs in line with the needs of Sector as well as establishing training institutes that pursue the model of strategic partnerships to train and qualify national cadres in technical and vocational fields.
H.E. GAMI Governor Al Ohali affirmed; Cooperation with TVTC is at the core of the Authority's strategic direction towards localizing industries in this Sector, by supporting and strengthening human capabilities in the Sector, and expanding training opportunities for young national cadres to work in specialized industries, and strive to develop a sustainable domestic Sector.
H.E. TVTC Governor Dr. Ahmed Al-Fahaid emphasized the importance of this cooperation, pursuant to
achieving the the Kingdom's vision of localizing expenditure on Defense. TVTC is keen to qualify national cadres through high quality specialized training programs tailored to the needs and specific requirements in support of this vital Sector.
It should be noted that the development of human capabilities and substantive and technical expertise in the Sector is at the core of the Authority's strategic direction towards supporting this vital and promising Sector. The Authority is working with all partners in the Kingdom to strengthen capabilities in this field through comprehensive training.